Have you read the reviews on the new Scurl No Drip Activator Moisturizer lately? It seems like both women with relaxed hair and natural hair have a problem with it. Some complain about the smell, some complain about the consistency, and some complain about how it does not get their hair moisturized. Yes. The company really messed up this time. Like we say here in the US, "If it ain't broke, don't fix it." They tried to fix something that was not broken and broke it in the process. The new formula makes my hair dull and sticky. And like most of you, I think the scent is over-powering, too. It drips from the bottle when I spray it, and it is more expensive than the older version. I went to 3 different stores in one day trying to get a bottle for under $4.00, but I could not. Not even at the Family Dollar store. Sucks, right?
But for those of you who have loved the old Scurl formula just like me and are not willing to give up on this product just yet, I have found a way for us to still enjoy it; that is if you can stand the smell, of course. I use it to moisturize my ends only and to baggy my hair. I have found that less is more with the new formula. I also alternate between the new Scurl and just plain water. For example, if I moisturize with plain water on Monday, the next day I use the new Scurl formula to moisturize my hair, followed by my oil/sealer. I use just a little bit on my hair twice a week, I cover it up with a plastic cap, wrap my head with a scarf, and leave it on overnight. I add my sealer in the morning and style my hair. Voila!
I know the new formula sucks, but don't give up on this product yet.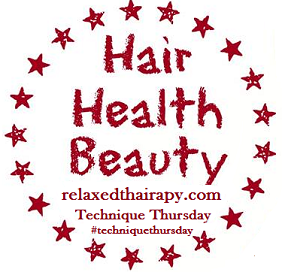 This is a link-up. Click on the button above to meet our host.